Affarano's Generosity Shines in Wake of Crash
Two weeks ago at Talladega Superspeedway, two things were on full display: the tremendous safety efforts surrounding an ARCA Racing Series presented by Menards event, and driver Mike Affarano's generosity in an unexpected moment.
As the leaders started Lap 76 in the International Motorsports Hall of Fame 250, Affarano lost control and his No. 83 car flipped over six times, his frontstretch barrel roll captured in front of thousands of Talladega Superspeedway fans and before a live national audience on SPEED.
Fans and viewers worried as Affarano's car then sat still, but the first responders arrived within one minute – no small feat at a track as large as Talladega Superspeedway.
Soon after, other local authorities, track safety vehicles, and the ARCA Safety Initiative chase truck arrived on the scene to assess the situation and determine the best course of action for freeing Affarano and ushering him to a review of his condition.
Six minutes and 22 seconds after the car came to a stop, a wrecker had pulled the heavily-damaged car off of its roof. With the right-side wheels touching the ground at the bottom of the track's pavement, the left-side wheels made contact with the flatbed surface of the wrecker, and the attention shifted to removing Affarano from the car.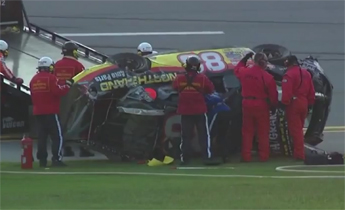 Just over two minutes later, officials helped him out of the car and he rode in an ambulance to Talladega's infield care center, from which he was later examined and released. Brandon McReynolds went on to win the race after a last-lap pass, but the lasting image for many will be Affarano's dangerous crash.
A 49-year-old auto parts shop owner from Illinois, Affarano wasn't done visiting the Talladega Superspeedway care center after his release. While there, he met a two-year-old boy who sustained burns from a fire elsewhere at the track.
Representatives from the care center asked Affarano if he would be willing to meet with the boy, who had come to the race track hoping to meet a "real race car driver." Affarano, having completed 74 laps on ARCA's biggest superspeedway in his series debut, certainly fit the description.
Affarano did more than just meet the boy, however. He returned to his truck in the ARCA Racing Series garage and picked up some hats and stickers – memorabilia to cheer the injured youngster.
"It'll be seven years this month that I lost my 16-year-old son," said Affarano, who now has two twin sons nearing their fifth birthdays. "He was an only child at the time. Kids have a special place in my heart.
"One of the staff came in and asked me if I could visit the boy. They said, 'We know you've been through a lot, but would you mind?' I told them it would actually be my honor to do that."
Affarano told the youngster, who he said wasn't crying, to stay strong.
"It put a tear in my eye to see what he was going through. Once they released me, I went back to get some shirts, hats, and stickers, and I got to go back and spend some more time with him."
Further turning a troubling moment into a memorable one, Affarano showed him an adult-sized team crew shirt. Affarano took down the boy's family's address and phone number, and promised the boy he'd send him a youth-sized version to remember his recovery at the track. In a moment when he easily could have retired to the garage to reflect on what he had survived, Affarano allowed his thoughts to turn to someone else in need.
"Just to see the smile on his face was huge for me."
Affarano told Sporting News after the crash that he felt safe after walking away from such a wild accident. He plans to race in the ARCA Racing Series again this year at Chicagoland Speedway.
"I quit racing for a while and there came a time where it was like, 'You're getting old; you always wanted to do this so it's now or never.'"
ARCA Racing Series News – Toledo, OH – May 18, 2012